---
Association of Christian Schools International (ACSI)
SCCS is accredited by the Association of Christian Schools International whose aim is to provide schools with the tools they need to empower students to reach their God-given dreams. SCCS benefits from ACSI's many programs and services that are designed to enhance the curriculum. Additionally, ACSI provides workshops and educational training for the SCCS faculty.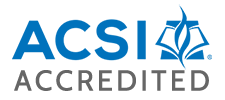 ---
Western Association of Schools and Colleges (WASC):
Santa Clarita Christian School is accredited by WASC, one of six regional associations that accredit public and private secondary schools, colleges, and universities in the United States.
SCCS was granted a maximum 6-year term in 1999 after the initial WASC review. This honorable accreditation is evidence that SCCS is a trustworthy place of learning and little, if any, additional support is needed for implementation, monitoring and accomplishment of the school's action plan in between WASC visits.
The following is the accreditation history of SCCS:
1999 ACSI/WASC Accreditation – 6 year term granted




2005 ACSI/WASC Accreditation – 6 year term granted




2011 WASC Accreditation – 6 year term granted




2017 WASC Accreditation – 6 year term granted




2023 ACSI/WASC Accreditation – 6 year term granted